Oglasi
Front Desk Receptionist | Oglasi za posao, Beograd
Postavljen 04. 11. 2022 - 09:18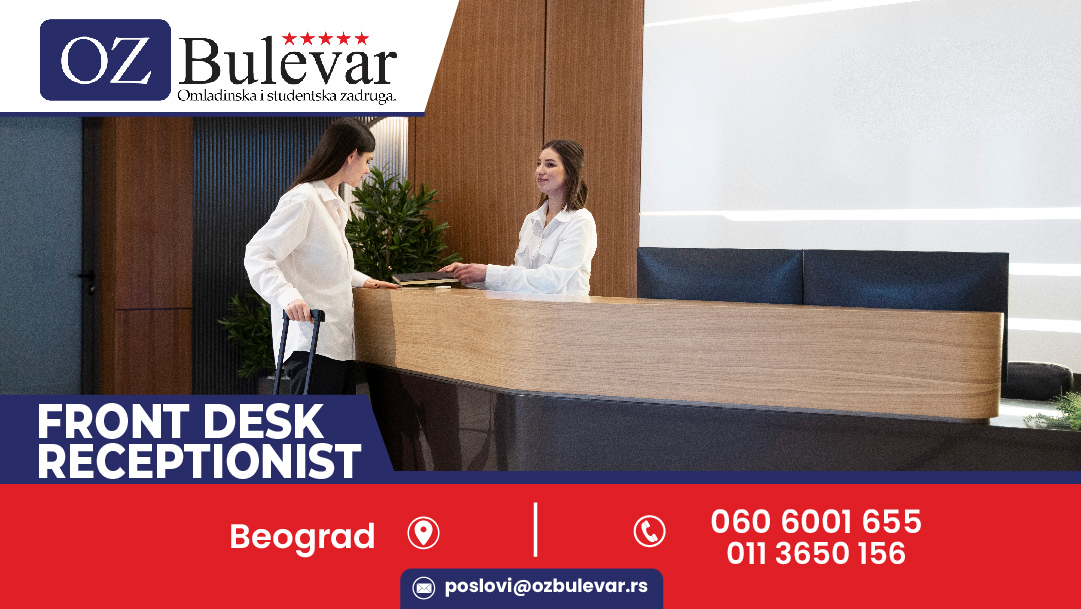 Omladinska zadruga Bulevar ima najveću ponudu poslova za studente i nezaposlena lica. Preko omladinske zadruge možete pronaći oglas za posao u svim gradovima R. Srbije i to: Beograd, Novi Sad, Niš, Kragujevac, Kraljevo, Čačak i ostale velike gradove u Srbiji. Za poslodavca iz Beograda tražimo studente i nezaposlena lica za obavljanje privremenih i povremenih poslova na radnom mestu:
Opis posla - job description:
- Maintaining the reception area
- Warm welcome and greeting to all residents in building
- Establishing the reason of the visit and guiding the guests in the right direction
and handling their enquiries
- Answering the telephone promptly and courteously
- Receiving and sorting daily mail
- Copying, collecting, and arranging reception documentation
- Receiving, sorting, and distributing daily post/deliveries
- Ensuring reception area is tidy and presentable, with all necessary stationery
- Providing basic and accurate information in-person and via phone/email
- Maintaining security by following safety procedures and controlling access
- Coordinating with different services to providing adequate support to residents
of the building (Security team, Facility services, Customer Care team etc.)
Uslovi rada - work conditions:
- Proven work experience as a Receptionist,
Front Office Representative or similar role will be considered as an advantage
- Professional attitude and appearance
- Strong organizational skills
- Excellent administration skills
- Strong verbal communication skills
- Confident using a computer
- Hands-on experience with office equipment
- Price of work (cena rada):
330 rsd/h.
Zainteresovani kandidati se mogu prijaviti Omladinskoj zadruzi na sledeće načine:
Ličnim dolaskom na adresu: Kneginje Zorke 5, Beograd - Vračar
Birčaninova 42, Beograd- Savski venac
---
Ostavi Komentar