Office and Financial Management Assistant | Oglasi za posao, Beograd
Postavljen 24. 01. 2023 - 09:23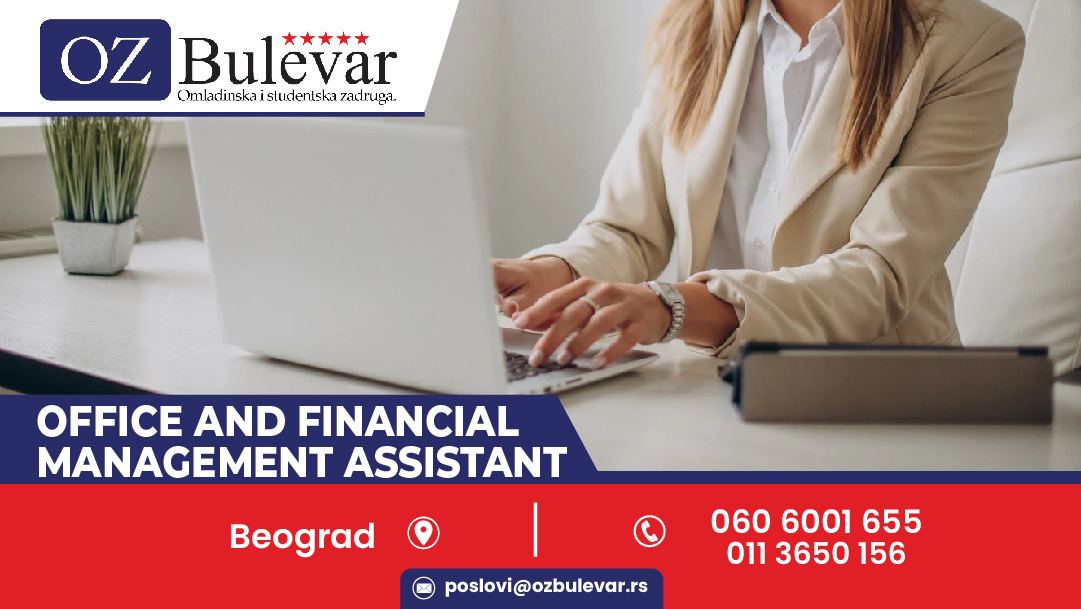 Omladinska zadruga Bulevar ima najveću ponudu poslova za studente i nezaposlena lica. Preko omladinske zadruge možete pronaći oglas za posao u svim gradovima R. Srbije i to: Beograd, Novi Sad, Niš, Kragujevac, Kraljevo, Čačak i ostale velike gradove u Srbiji. Za poslodavca iz Beograda tražimo studente za obavljanje privremenih i povremenih poslova na radnom mestu:
Office and Financial Management Assistant
Office and financial management:
- Support the Project Manager to implement and monitor financial/accounting, procurement and administrative procedures related to the office day-to-day management;
- Support the Project Manager to ensure all projects and office finances/spending are regularly forecasted and monitored;
- Responsible for managing office matters (payment of rent, utilities, insurances, contracts, support in events and travel organisation, etc);
- Oversee payment of invoices, and manage and maintain up-to-date accounting and finance records, including bank statements and communication with banks and external accountant;
- Ensuring financial records are accurate, updated and available throughout the year;
- Manage and maintain paper and electronic records- invoices, proof of payments, etc.
- Managing office supplies, travel arrangements (hotel, flight tickets, local travels),
- Managing contracts, rulebooks, decisions on vacations, business trips and similar
- Managing e-faktura system
- Currently on the final year of University studies - preferably in Economics, Finances, Accounting, or other related field;
- Full professional working proficiency in English;
- Experienced user of MS Word and MS Excel;
- Excellent writing and oral skills;
- Previous experience with office and financial administration will be considered a strong asset;
- Requested documents: Resume in English and Cover letter (1-page maximum)
- Zarada:
250 eur.
sa pola radnog vremena
Zainteresovani kandidati se mogu prijaviti Omladinskoj zadruzi na sledeće načine:
Ličnim dolaskom na adresu: Kneginje Zorke 5, Beograd - Vračar
Birčaninova 42, Beograd- Savski venac
* Sva polja su obavezna
** Komentar može sadržati maksimalno 300 karaktera.